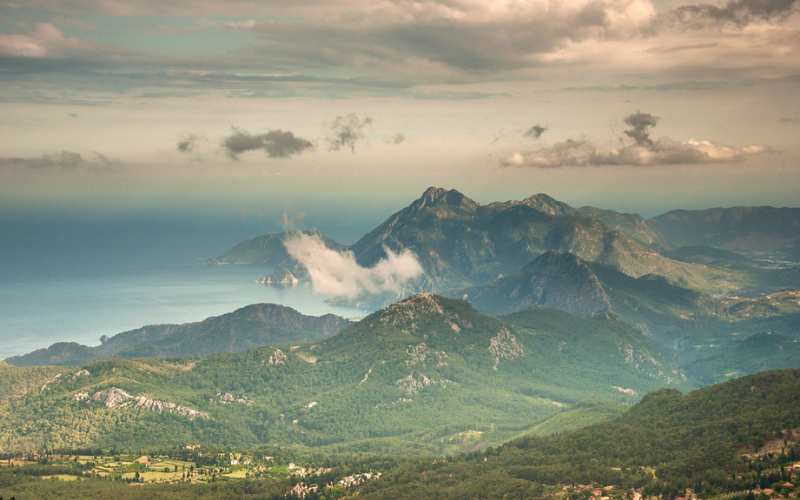 Antalya Mount Olympos is the most impressive mountain in the surrounding area. The summit of 2365 meters is easy to climb by funicular to see the stunning landscape from a bird's eye view
Top of Mount Tahtali
The summit of Mount Tahtali is the highest point in the western Taurus mountain range. At this height, the clouds float below or so close that it seems as if they are close at hand. It is not surprising that the locals associate it with Olympus, where the gods once lived.
Mountain tours in Turkey
Tours to the mountains in Turkey have always captured the spirit of people with their greatness. Our company invites you to visit Excursion to the top of Mount Olympos from Antalya is a trip that everyone can do. There is no need to have good physical preparation and plan a long grueling hike. This is a comfortable tour for the whole family. We will pick you up from your hotel and bring you to the lower cable car station. From there you will take the funicular to the highest point of the mountain. Antalya Mount Olympos's price includes a comfortable transfer, tickets, insurance, and guide services.
The climb takes about 15 minutes. During this time, you will see how the landscape changes on the way from sea to sky. Dense pines and grasses are gradually turning into juniper thickets, which at an altitude of 1900 meters are replaced by bare rocky slopes and gorges. The higher, the more interesting. The observation deck offers a full view of the mountain range and the coast, which is far below.
When you stand above, surrounded by clouds, it seems that the whole world is in the palm of your hand. No photo can convey such a magical feeling. This is a must-see. Book a tour to Antalya Mount Olympos and go to conquer the mountains.