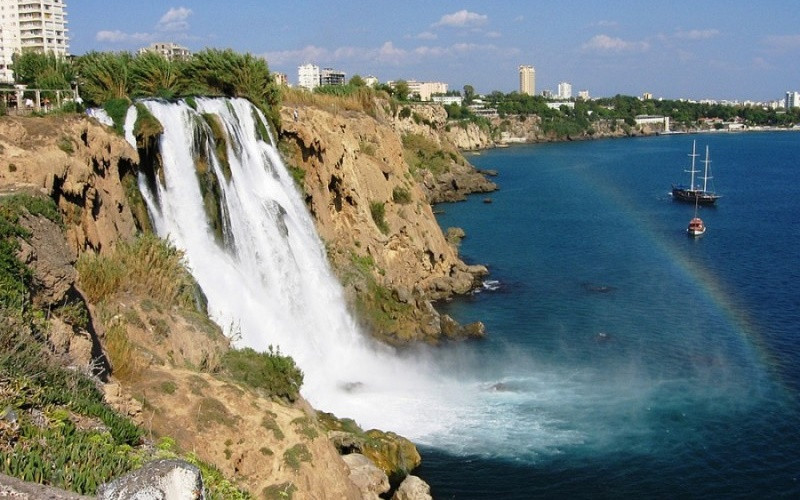 Duden waterfalls in Antalya how to get by public transport from the center - you need to take bus number 66, which departs from Yuzuncu and Yener Ulusoy boulevards. If you are coming from other parts of the city, see the information on the side window of the bus. It is better to check with the driver when boarding. The bus will stop right at the park, the entrance fee to which is 6 Turkish liras, here you need to pay in local currency. You can track city bus routes through the Antalyakart app. Where can you also get an answer to the question ``Duden waterfall in Antalya how to get there``.
Taxi in Antalya
Taxi in Antalya is sometimes not only the most comfortable, but also the fastest way to cover distances. To the question ``Duden waterfalls in Antalya how to get there`` sometimes there is only one answer - Taxi. But if comfort is a priority for you, then it is definitely better to get there by taxi. There are several proven companies - Ataturk Park Taxi, Taxi 24, Altinkum. Also in the capital, without any problems, you can rent a car.
Upper Duden
Upper Duden, whose age reaches 600 years, is thrown with a crash from a cliff, from a height of 27 meters straight into a blue lake. Lower Duden carries its waters to the Mediterranean Sea. By the way, you can swim there by boat. In the evening, the lights come on here - an amazing sight. If you love beautiful nature, then visit Green Canyon from Antalya . This huge emerald reservoir is located at the foot of the Taurus Mountains. The delightful beauty of the area attracts travelers from all over the world.
We hope we have answered the question 'Duden waterfalls in Antalya how to get there'.