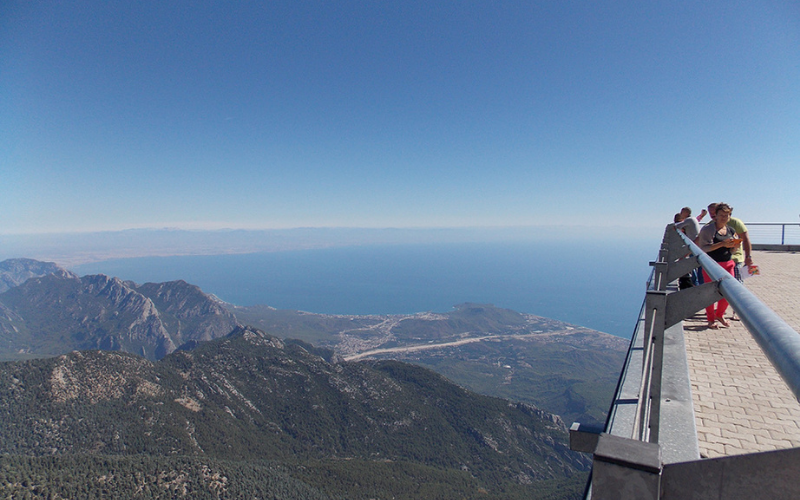 Excursions to the mountains from Antalya are inevitable when visiting Turkey, since mountains occupy three quarters of the area of ​​Antalya province, so these excursions are no less popular here than historical ones. Mountain ranges rush from the shores of the Mediterranean into the clouds, crossing each other, creating stunning views of the surrounding area. Many mountains are covered with coniferous trees, which add a unique scent to the clean mountain air.
Mountains trips in Turkey
Mountains trips in Turkey are a real pleasure. A special feeling arises on the peaks, when the view of the Mediterranean Sea opens, the shores of which are bordered by endless mountain ranges. It is not only incredibly beautiful here, but quite convenient for walking. Most of the hiking trails have resting places. Therefore, you can safely go to the mountains with the whole family. Excursions to the mountains from Antalya offer a wide range of routes.
Mount Tunektepe
Mount Tunektepe is included in the sightseeing tour of Antalya, which is shown on the main page of the site. You don't need to go far. You will see the most interesting places in this tourism capital and learn a lot of interesting information about them from the guide, and then you will climb to the top of Tunektepe, rising 600 meters, by cable car. Excursions to the mountains from Antalya can also reveal other peaks for you.
For those who like to climb higher, there is an excursion mountain Tahtali from Antalya. Here the cable car will literally lift you up to the clouds, to a height of 2365 meters. You will have two hours to walk and relax. At the very top, there is a restaurant with panoramic views. After such a rise, people reboot and start looking at the world differently. You will be charged with energy, a good mood, and strength that is transmitted from the majestic mountains to everyone who comes here to visit. And most importantly, excursions to the mountains from Antalya will give you much more impressions than you expect.