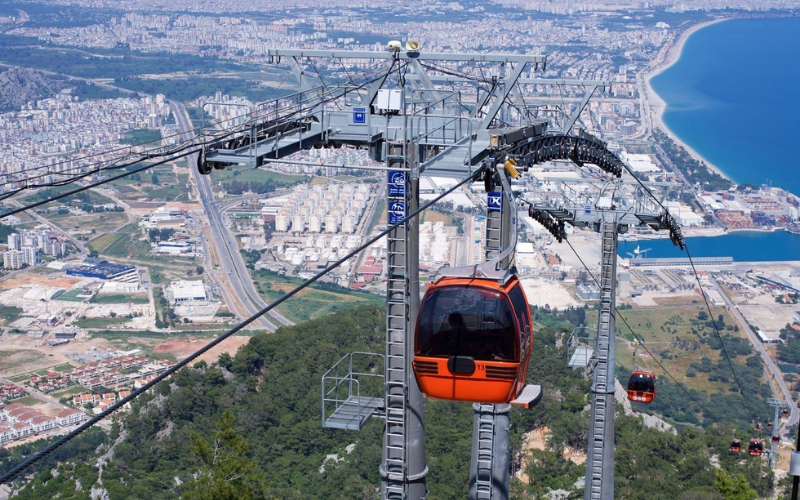 Antalya Teleferik
Antalya Teleferik delivered the first passengers to the top of Tunektepe in 2017. The cabins are new, tinted, do not creak or whistle. The modern cable car takes people to observation decks located at different heights. The ascent lasts only 10 minutes, but the aesthetic pleasure does not end there. The height of the mountain is 605 meters. Antalya Tunektepe Cable car gives you the opportunity to enjoy stunning views of the city, the Mediterranean Sea, mountain ranges, and forests that open here.
Antalya Cable Car
The Antalya cable car - Tunektepe teleferik, takes tourists to the very top, where you can walk and dine in a restaurant with the best view of the coast. For children, there is a play area with slides and swings. The cost of the Tunektepe cable car in Antalya is 30 lira in both directions. The cable car runs from 10 am to 18:00 every day. Weekends the Antalya cable car opening hours is 09:00-18:00. The way from the center of Antalya will take about 40 minutes. This is if there are no traffic jams.
The most interesting way to visit Tunektepe Cable Car is a sightseeing tour in Antalya. You will have a trip on a comfortable boat, an excursion to the Upper and Lower Duden Waterfalls, a tour of the old town of Kaleici, and many interesting sights. The tour is designed for people without age restrictions. It is the perfect way to get to know the city and have a vivid experience.